ILMA LAKES Grant Replacement Challenge: We are issuing a challenge to all our members as well as all other Illinois Lakes and Watershed Stakeholders to help fund the continuing vital activities of this organization! As you may know all sustaining Grants from State agencies have been curtailed and we need to find replacement funding. You Can Help!
Just One Dollar ($1) for every Acre of Lake you represent (or a portion thereof) from our members alone would more than offset the grant loss and sustain our activities.
The challenge has already been met by several representatives of lakes in our membership. You can see their contributions and our progress here.
If you don't have lake you are affiliated with: adopt a POND, LAKE, STREAM of appropriate size or just pick your own metric to contribute against (i.e. $1 for every lake we treat, $1 for every yard/mile of stream we maintain, $1 for every fish I caught last year – Buck-A-Bite...)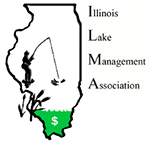 ILMA is a 503c organization and your contribution is tax deductible.
With 84,000 Lakes and ponds in Illinois this should be a "Buck-a-Body" of water.
LET'S FILL THE LOGO! The Grant provided about $15,000 annually.
ACCEPT THE CHALLENGE
ILMA-Lakes is 501c3 Not For Profit Corporation
Don't want to pay online? Download our Mail-in-form!
Help Us Achieve Our Goal
| | | | |
| --- | --- | --- | --- |
| Bangs Lake Advisory Committee | Bangs Lake | $310.00 | Bangs Lake is 310 acres |
| Tower Lakes Improvement Association | Tower Lake | $76.00 | This is the Tower Lakes Improvement Association Donation to the Buck an Acre Challenge |
| VLMP-Lake Charles, Westmont, IL | Lake Charles | $50.00 | I gave more than a buck an acre cuz I like what your organization does! |
| Leonard Dane | none | $6.00 | Buck an Acre Challenge - $1 for each wonderful year on the ILMA Board (Since I don't live on a lake) |
| Wonder Lake MPOA | Wonder Lake | $830.00 | Wonder Lake is 830 acres |
| Grayslake Park District | Grays Lake | $80.00 | Grays Lake is 80 acres |
| Peter Berrini | none | $101.00 | 101 plus lakes he has worked with during his career! |
| Woodhaven Association | Woodhaven Lakes | $100.00 | |
| Round Lake Management Commission | Round Lake | $230.00 | Round Lake is 228.6 acres |
| Lake Wildwood Association, Inc | Lake Wildwood and Lake Tanglewood | $250.00 | Total approximately 250 acres |